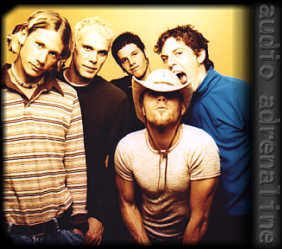 Odd Audio A Info

Here's some things you may have wanted to know, didn't want to know, or never even thought of, about Audio Adrenaline. If you know any of their goofy quirks, wierd talents, past things they have done or anything else odd or interesting about Audio A, please let me know and I will post it in here.

• Mark and Michael Owsley (AA's touring keyboardist) are first cousins.
• Audio Adrenaline used to be known as A-180 before changing their name to Audio Adrenaline.
• Ben used to own a hearse
• Will is 5'11" tall
• Bob's favorite drink is Mountain Dew
• Mark is 6'1" tall
• Mark is 173 lbs.
• As a kid, Ben always wanted to play professional soccer
• Barry's nickname is "Speedy"
• Bob is 6'5" tall
• Bob's nick name is "The Tower" (I wonder why?)
• Audio A bought a van that a guy had been using as a dog house for about 6 dogs, they used it to travel and sleep in. There was a hole in the roof of the van and every time it rained they'd all get wet. That van broke down 6 times in one trip!
• Mark's favorite drink is sweet tea
• Will and Mark used to sell plasma for money
• After a fan told the band that their concert was like audio adrenaline out there, Bob suggested they change their name to Audio Adrenaline
• Audio Adrenaline formed at Kentucky Christian College
• Bob and Will droped out of college with only 4 more months left before they could graduate.
• Ben went to college for 1 1/2 semesters
• Mark and Barry lived together for 3 years in college
• During the touring with Audio A, Mark has had mono, snow blindness, laryngitis, kidney stones, and his car was broken into 2 times.
• Mark has a degree in Secondary Education Math and Science and in Bible.
• Audio Adrenaline has 16 sound men - Bob was their first
• Audio Adrenaline has eaten at 73% of the Dennys resturants in the country. (now you know where to look for them before and after concerts! :-)
• Ben started playing with Audio Adrenaline on Feb 15, 1996
• Will's favorite nail polish colors are blue-black and manic panic.
• Will has a twin sister.
• Bob's fave TV show is the X-Files
• Mark has two german short-haired pointers named Vegas and Vienna
• Will has two siberian huskies named Kloka and Jake
• Mark's favorite scripture is 1 Timothy 4:12
• Bob's favorite scripture is Romans 6
• Will's favorite scripture is Numbers 6:24-26
• Tyler's most embarrassing moment on stage was in Irving, CA when he slid off stage, fell on guitar and hit head on speaker in front of 3,000 people.
• Mark says he doesn't get embarrassed.
• Ben's fave T.V. shows are The Simpsons and King of the Hill.
• Will's fave T.V. shows are Law & Order and Ally McBeal.
• Mark's fave T.V. show is the X-Files.
• Tyler and Bob say they don't watch T.V.
• Tyler is into candle making.
• Bob is into computers.
• Bob's favorite band is Considering Lily... his wife is CL's lead singer.
• Matt Herdman, Bob's brother, is Audio A's road manager.
• Ben recently moved to Nashville, TN where he now lives in an apartment with Matt Herdman.
• Ben used to be in a band called Stone Forest.
• Ben was "King of Hearts" at the Valentine's Dance when he was a senior in high school.