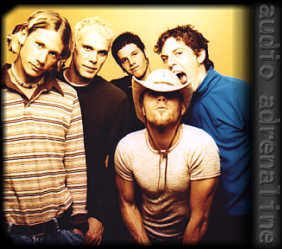 Audio Adrenaline News
Last Updated: July 25th
More news will be added as it becomes available

July 25->
I apologise for the lack of news and other updates lately. Some of this is old news, but I will share it anyway.
Dennis Herdman, brother of AA guitarist Bob Herdman, and Audio Adrenaline's bus driver passed away on June 15th from leukemia while waiting for a bone marrow transplant.
Parker Hope Herdman, Bob and Jeanette's second child, was born on June 16th. Congrats!!
FlickerRecords.com has signed another artist: Pillar. Pillar is putting the finishing touches on their debut album which is slated to release on September 26th.
It was said this weekend on the CCM Top 20 Countdown, that Andrea and Will McGinniss are expecting their second child! No details are known yet.

May 12->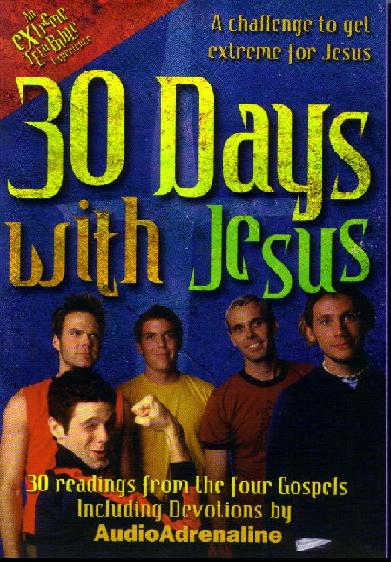 Reach in, hang on, and get ready to find out about someone who went to the extreme just for you. Introducing the Extreme Teen Bible. This Bible is not for your parents. It's not for the coffee table. It's all about coming face to face with the God of the universe. So take the plunge into all the great stuff we've packed into this Bible. Generous book introductions and tons of relevant study notes bring the message of the Bible into focus and will help you target God's plan for your life. You'll find profiles that tell the stories of amazing young people in Scripture who had God working through them to make an impact on their world. How can you make an impact on your world? The Extreme Teen Bible is a sponsor of the Underdog Tour. Audio Adrenaline has been a huge endorser of this Bible from the very beginning. In association with the Extreme Teen Bible, they have also released a devotional book titled "30 Days with Jesus." The devotional hit shelves last month, go pick it up!!!
April 20->
In an interview before the Doves tonight, Mark Stuart announced that Audio Adrenaline will release a Greatest Hits CD in the fall or winter of 2000! Mark said that some of the songs on the CD will be the original recordings, and some will be live performances from the Underdog tour and various summer 2000 festivals.
April 13->
I have just been informed by SOMEONE that the whole ordeal with Tyler and the scooters (see March 10th) was a rumor..... I will be more careful where I get my information from now on.... I (and everyone else involved in this situation) am sorry if I have caused any confusions or caused rumors to be spread. And that's all I have to say about that.
April 6->
Underdog has just been released at Audio A's latest single. Start requesting it! Rumor has it, that after the tour is over, the guys are going to record a video for Mighty Good Leader and make that their next single.
March 10->
As some of you may know, one of the big attractions at the Underdog show is the "Mosquito Mobiles" (aka, the scooters). At the beginning of shows, the band members usually ride out on their Mosquito Mobiles to the delight of the crowd. But a few nights ago, in Roanoke, the stage they were playing on was a little bigger than normal. So Tyler figured he'd ride out on his scooter a little faster than normal. Needless to say, he ended up having to slam on the brakes, flew over the handle bars, crashing into Ben's drum kit. Tyler and the drum kit were both fine, but don't count on seeing the Mosquito Mobiles at many more of the shows!
Aside from that, I've been told that Bob and Jeanette's new baby (expected somewhere around May) is going to be a girl! Congrats!!
Jan. 28->
THE UNDERDOG TOUR HAS OFFICIALLY BEGUN!
The sad news is that Bob Herdman has decide to indefinately stop touring with Audio Adrenaline. Don't worry! he hasn't left the band or anything dramatic like that, he's just staying in TN to work on FlickerRecords.com and because his wife is now pregnant with their second child and is due around the end of the tour.
Last night was the kick off show, and I wasn't there, but I did get a set list from someone at the dzone. Here it is (in no particular order)
-MIGHTY GOOD LEADER
-UNDERDOG
-GET DOWN
-MY LOVE
-HANDS AND FEET
-DC-10
-IT IS WELL WITH MY SOUL
-THIS DAY
-THE HOUSEPLANT SONG
-IT'S OVER
-SOME KIND OF ZOMBIE
-CHEVETTE
-FREE RIDE
-WE'RE A BAND
-BIG HOUSE
and an acoustic medley of:
-BABY,BABY/JESUS FREAK/SHINE/WHO DO YOU LOVE/NEVER GONNA BE AS BIG AS JESUS
I was also told that the performace of the Houseplant Song was a video of Bob singing it.
That's all the Audio A/Underdog Tour news for now, but check back, new info may pop up soon!!!
IN OTHER NEWS:
Dove Award nominations were announced! Audio A is nominated for 3 awards; Group of the year, Rock Song of the year for "Get Down" and Rock Album of the year for "Underdog"!! Good luck at the ceremony guys!!
Jan. 5->
Mark Stuart recently finished co-producing Jennifer Knapp's second CD (he also produced her first) which will be released in mid-February. Mark also recorded backing vocals on this CD just as he did on her first.
In other news; Audio Adrenaline was nominated for another Grammy! This makes their third nomination! Great goin' guys!!!
Dec. 8->
Major news from ForeFrontRecords.com This is a newflash taken straight from their site.
More news about the Underdog Tour to be announced within the upcoming weeks! Stay tuned!
Nashville, TN - Wednesday, December 8, 1999 - ForeFront Records announced Tuesday evening at an event held at BMI that recording artist Audio Adrenaline received RIAA gold-certification for their third studio album Bloom. Also announced was the re-signing of their contract to ForeFront Records and a distribution deal that was inked between ForeFront and the band's new label, flickerrecords.com.
"This is a huge achievement for Audio Adrenaline. It's an incredible accomplishment to sell over 500,000 units in the CBA market, and these guys have worked extremely hard for this. It's been wonderful to see how their ministry and music have grown over the last nine years. With the new ForeFront team in place, we are looking forward to building upon Audio Adrenaline's success," ForeFront President Greg Ham said.
In addition to Audio Adrenaline's RIAA "gold record," the band announced their re-signing to a long-term recording agreement with ForeFront Records and a long-term music publishing agreement with EMI Christian Music Publishing.
"We've had an amazing ride with ForeFront over the years. We've been surrounded by a great group of people who have supported us as a band, and encouraged us in our ministry. It's exciting to get a gold record, and we're just as excited about furthering our relationship with ForeFront for years to come," Audio Adrenaline member Mark Stuart expressed.
As part of the new agreement, band members Mark Stuart, Will McGinniss, and Bob Herdman signed a distribution deal with the label for their new venture flickerrecords.com which will go through Chordant Distribution. Although all three members will be involved in the visionary plan of the label, Herdman will be primarily focusing on the day-to-day operations.
"It's great to be able to continue working with Greg Ham and our family at ForeFront Records with this new venture. We've known Greg for over 10 years and he's been so willing to help us out with our careers and ministry. And now, he's giving us guidance to do the best we can to find artists with great talent and goal-oriented ministry. Not to mention, Chordant is the biggest and best distribution company out there," Bob Herdman said.
"We are looking forward to working with Audio Adrenaline in this new endeavor with flickerrecords.com. These guys have worked hard over the years and they know first-hand what it is to develop new talent. This will be an extension of a very successful band that should continue the expansion and growth of their influence on the youth of our culture," ForeFront Records Vice President Allan Hardin added.
Audio Adrenaline's September 14 release, Underdog, has been their fastest selling album to date and debuted at number one on the Christian Retailing chart its first week out. In support of the album, the band will headline a 70 city Spring 2000 tour with opening acts RAZE (ForeFront), Fono (KMG), and flickerrecords.com debut signing, Riley Armstrong.
Nov. 7->
It has been confirmed that Raze and Fono will be the opening bands on the Underdog tour! Riley Armstrong will not be opening for Audio A, but he may be appearing in the loby before a few select shows.
Sept. 13->
"Get Down" is officially a number 1 song! It is number 1 on this week's ChristianRock.net charts. Check out the full Underdog album in stores TOMORROW!
Sept. 3->
Dont forget to check out hearitfirst.com Sept 8-10 to listen to 3 new songs every day from the new Audio Adrenaline album Underdog And check out ForeFront Records for your chance to win an iMac or other cool signed prizes from Audio A!
Aug. 1->
Audio Adrenaline is featured on the cover of New Music magazine this month, and there is a 2 page interview with them. If you buy the August issue of CCM you will get the New Music magazine along with it.
July 23->
Audio A recently filmed the first video from their upcoming album for the song "Get Down" Check out ForeFront Records for clips of the making of the video, and soon they will have the entire video up too!
July 13->
There is going to be a song on the new Audio A album that is a duet with Jennifer Knapp. The song is a hymn called "It is Well"
July 5->
I talked to Will, and he said that the new version of "DC-10" will be on the new CD.
June 28->
Audio Adrenaline has re-recorded a song from their self-titled CD "DC-10" The style that they recorded it in this time is a "Rock-a-billy" type country style. You can hear it at concerts, and the new version of it can be heard on some radio stations, but it is not known if it will be released on an album.
On the Underdog album, there is probably going to be a cover of Pete Townshend's "Let My love Open the Door" and another song that may make it on the album is titled "My Love" Keep GET DOWN! bookmarked and check back for the latest news on Underdog!
June 20->
Audio Adrenaline has contributed their song "Blitz" to the soundtrack of the movie Joyriders. Check out their website for the movie plot (it looks really awesome!) and you can go here to read the full track listing for the Soundtrack.
June 17->
Audio Adrenaline is going to have a song on two new compilation CDs that will be released this August. One of the CDs is called "Listen Louder" which Audio A will record a praise song for. The other CD is "Power Jams" which will include a remix of "Free Ride"
June 16->
There is a new sampler CD out now called "Simply Spectacular" (the follow up for last year's "Simply Xcellent" CD). The CD is only $2.99 and contains 14 songs along with clips from 3 of Audio A's new songs that will be on "Underdog"
June 7->
I've heard from Mark@ForeFront that Audio A's new song "Get Down" (from the upcoming album) is becoming so popular at concerts that it has replaced "Big House" as their final encore song! I've found the lyrics to "Get Down" here they are:
Lavishly our lives are wasted
humbleness is left untasted
You can't live your life to please yourself.
That's a tip from my mistakes
Exactly what it doesn't take
To win you've got to come in last place
To live your life you have to lose it
And all the loser's get a crown.
I get down, and He lifts me up.
I get down, and He lifts me up.
I get down, and He lifts me up.
All I need's another day
Where I can't seem to get away
From the many things that drag me down
I'm sure you've had a day like me
Where nothing seems to set you free
From burdens you can't carry all
Alone in our weakness He is stronger
In our darkness He shines through
When your crying, He's your comfort
When you're lonely, He's holding you.
This valley
Is so deep
I can barely see the sun
I cry out
For mercy, Lord
And He lifts me up again
We get down, and he lifts us up.
May 4->
The album release date was moved back a week to September 14th. This time it is officially official!
April 25->
The new album is officially titled "Underdog" the first single from the album will probably be "Get Down." They are recording "Underdog" at Gary Chapman's Tejas Studios. Charlie Peacock is going to produce 2 tracks, while the rest will be produced by Audio A themselves.
April 18->
It has been confirmed (by Tyler) that Audio A's new album will be realeased on September 7th. (Yes, you may jump for joy now!) And it is currently titled "Underdog" but that may change.
April 3->
ForeFront Records is describing Audio Adrenaline's new album (due out in September) as a "power pop-rock" album. The 5 guys of AudioA are going to be taking most of the credits on this album, and they're also going to do something they've never done before... produce the album themselves! Charlie Peacock and Todd Collins are going to produce a few tracks, but the most of them will be produced by the guys. Some people have been wondering if Michael, their touring keyboardist/guitarist, is going to be officially joining the band as a member.... Well, he might, but as for now, he is still just a roadie.
March 10->
Tyler's wedding is in May Her name is Ally and from what I hear, they're perfect for each other... they've been dating for about 3 years.
Also, Audio A has recorded the first 5 tracks for their latest album! It's due in stores in September.
Feb 27->
More info about Satchell's birth... his name is actually spelled Satchell, not with just one L, and he was born at 7:39 a.m... Also, Mr. Tyler Burkum will soon be getting married! I don't know what her name is, but Ty's brother Page confirmed this news!
Feb 18->
On February 17, 1999 (9 days after she was due), Andrea McGinniss gave birth to her and Will's first child! It's a boy, and his name is Satchel Cade McGinniss.
Feb. 2->
Andrea McGinniss (Will's wife) is pregnant with their first child! She is due in about 1 week. I don't know if it's supposed to be a boy of girl though. I'll keep you updated if I hear anything else about this.
Jan. 22->
In November of '98 Jeanette Sullivan (Bob's wife) joined the group Considering Lily. Considering Lily is in the studio right now working on their sophmore album due to release on Feb. 23rd on ForeFront Records. You can also get Jeanette's solo album "Planet" from her website jeanettesullivan.com
Jan. 19->
Audio Adrenaline is scheduled to play at "The Pope Show" along with Supertones, The W's, Jennifer Knapp, and Rebecca St. James on January 26th, 1999. ABC, NBC, CBS and a lot of other stations will be airing the show. Check local listings for time and channels.
Jan. 15->
BREAKING NEWS! ForeFront has announced that Audio Adrenaline's new album is slated to be released in September of this year! Yea! Rock on guys!
Jan. 7->
The single version of "New Body" that is played on the radio is also the same version that is on ForeFront Records' new compilation CD "People Get Ready"
Audio A's record label, Flicker Records, is going to have it's own webpage soon. The URL is www.flickerrecords.com but it is not up yet.